New tourism centre for Retreat

The Cape Flats Development Association (Cafda) in Retreat is to launch a craft, training and culture centre, which will have positive spin-offs for the local community.


Cafda was established in 1944, on an original farm on the Cape Flats, to address the problems of dreadful poverty, disease and malnutrition as well as the appalling living conditions exacerbated by severe flooding, prevalent at that time, during the winter rainy season.
Now, 56 years later, Cafda has developed into a well-established welfare organisation, successfully transformed from delivering strictly curative services and material aid to a more holistic and developmental balance.
Tourism in South Africa has grown rapidly over the last five years. It has been recognised as a key priority for the government, because of its enormous potential for contributing to the economy. Cape Town remains the number one choice in South Africa for local and international tourists.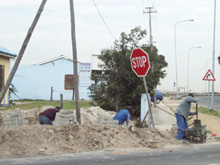 Job Creation through Tourism has also been identified as a priority area for the City of Cape Town. The Cafda Stables Craft and Culture Centre is a job creation and income-generating project situated on Prince George Drive, which is a major route leading to Capricorn Park, popular tourist attractions along the False Bay Coast and Cape Point.
The property is also situated on the western boundary of the Rondevlei Nature Reserve and the proposed False Bay Coastal Park. The Stables name is derived from the rich historical value of the buildings, being originally used as stables on a farm.
The main goals of the project are:
To develop a craft and culture centre that would offer skills training to the unemployed and disadvantaged in our communities.

To provide space to local community members for trade in locally made crafts.

To operate a tea room, linked to the existing Cafda Baking Project.

To attract local and national visitors and overseas tourists to the Centre.

To provide for a tourist information centre, including a cultural heritage museum.